ARTEMIS CP1 CO2 multi - shots pistol - .177 or .22 bore (6 Joule)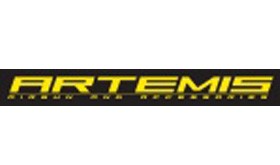 Young chinese brand that's beccoming bigger and bigger, ARTEMIS proposes here a CO2 leisure pistol, very similar to those used in competition. Although it's working thanks to a 12g CO2 cartridge, the CP1 develops a great power of 6 Joule, propelling pellets at a velocity of approx. 160 m/s.
Ideal for training to accuracy shooting at a range of 10 meters.
It is available in 2 calibers  :
 .177 caliber
or .22 caliber
Find out more
Aesthetic :
Its design is really close to the pistols used in competition with pellets at 10 meters, with its stock with a large and flat basis, allowing a great handling for shooting standing at arms length (as in competition).
Under the barrel, a second cylinder contents the CO2 cartridge.
The handle is made of european beech, the barrel and mechanical pieces of metal alloy.
Using :
This pistol remains first of all a leisure pistol, that allows accuracy training, on paper targets, or any other bottles and cans.
Very powerful for that kind of weapon, approximatively 6 Joule, the CP1 works thanks to a 12g CO2 cartridge, allowing a "softer" shot than with air pistol, (less recoil and vibration), and also less noisy.
It shoots pellets.
The pistol is loaded thanks to a lever "bolt action" type, on the left side :
pull the lever at the rear, to open the chamber
insert the magazine filled with pellets
push the lever back on place
aim and shoot!
It has an adjustable rear sight (elevation and windage), and a windage adjustable front sight.
It also has a dovetail rail of 11mm, where adapting accessories such as a scope, a red dot.
Manufacturer

ARTEMIS AIRGUN

Type of weapon

Pistol

Caliber

.177 or .22

Power source

CO2

CO2 cartridges

12g

Cocking

Bolt action

Barrel

Steel / Rifled

Ammunition

Pellets

Firing

Semi automatic

Loading

Cylinder

Capacity

9 coups en 4,5 mm / 7 coups en 5,5 mm

Stock

Wood

Material

Alloy

Main hand

Ambidextrous

Optic fiber

No

Rear sight

Adjustable

Dovetail rail

11 mm

Color

Black

Lenght

15.35"

Weight

1.87 Lbs

Velocity

545 Fps

Energy

6 Joule

Legislation

D category weapon (free sale over 18 years old)

Origin

China

Catégorie

Pistolet à plomb
Customers who bought this product also bought: