B.O. Langley Hitman modular air pistol - .177 bore (9 Joule)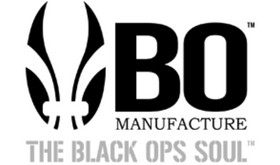 With the success of the Silencer version, and then the Pro Sniper with a removable stock, Black Ops offers now the Hitman version, with stock and silencer (fasle, juste for the asethetic). 
A modular pistol, powerful and accurate, for plinking, in the garden or accuracy initiation.
Find out more
Features of the Hitman
The Langley Hitman air pistol / rifle is a single shot weapon, traditionnally break barrel, working thanks to a spring-loaded piston, high performance.
In caliber .177, the barrel is rifled steel, anc it can shoot all pellets (except BBs), in .177.
The frame and mechanical parts are made of metal (alloy), and the body and stock are in high dnsity polymer, extremely resistant to time, use and solis.
The stock extension can be mounted and remopved very easily, with a simple rotation.
The Hitman has natural sights :
green optic fiber rear sight, adjustable heigth and laterality
fixed pin front sight
It also has a Picatiny rail, for scope, red dot or aother accessory
The trigger course is adjuctable, and the safety manual.
Using the Langley Hitman
With or withou stock , choose chat you prefer!
Put the safety on, to avoid any un controled choot.
The Hitman is a conventionnal brek barrel pistol :
open the barrel, taping on its extrzmity, to unlock it
pull it completely down until it hangs on (click)
put a pellet in the barrel
get it back firmly on position until it locks
aim, remove the safety and shoot!
Carfeul : to cock the pistol, hold the body and not the shoulder stock, to avoid to buckel or break it (not under warranty)
Manufacturer

BLACK OPS

Type of weapon

Pistol

Caliber

.177 (4,5 mm)

Power source

Spring

Cocking

Barrel lift

Barrel

Steel / Rifled

Ammunition

Pellets

Firing

One shot

Loading

Barrel

Stock

Synthetic

Main hand

Ambidextrous

Culasse

Acier

Safety

Manual

Optic fiber

Rear and front sight

Rear sight

Adjustable

Front sight

Fixed

Dovetail rail

Picatinny / Weaver

Color

Black

Lenght

17.91 / 29.33 "

Barrel length

9.84"

Weight

3.53 / 4.45 Lbs

Velocity

623 Fps

Energy

9 Joule

Legislation

D category weapon (free sale over 18 years old)

Origin

China

Catégorie

Pistolet à plomb
Customers who bought this product also bought: