B.O. Langley Silencer air pistol - .177 bore (10 Joule)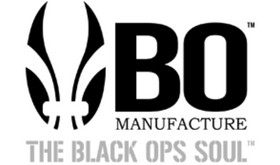 Power and accuracy... are the 2 keywords we can associate to this B.O. P17 pistol.
In the range of the training and pre-competition pistols, the P17 detonates with uts extremely affordable price. really close to the Weihrauch HW40, or the Gamo PR45... but at a clearly lower price!
Find out more
Feature
Excellent compromise between an initiation and leisure pistol, the B.O.P17 is a pre-compressed air pistol : it works thanks to a pneumatical cylinder, located in the slide, that is compressing the air content within, simply opening and closing the barrel.
This system has the great advantage to produce almost no vibration nor recoil while shooting, allowing a better accuracy. It is also more silent.
Characteristics
Mainly made of synthetic material, that alleviates the pistol, the P17 has a rifled steel barrel, and its mechanical parts (triggern safety and hammer) cast aluminium made.
The ergonnomic handle marks the placement of 3 fingers, for an instinctive grasp.
The trigger, sensible and smooth is adjustable.
The sights have optic fibers, front red and rear green : their alignment allows a good accuracy at hte naked eye.
It also has a 11 mm dovetail rail, where adapting a red dot for example.
The safety is automatic, and is engaged at the opening of the barrel, allowing a safe handling! It can be easily realesed, pushing the safety button located just over the trigger guard, until the red point appears.
Working
unlock the barrel, pulling the hammer backward
open the slide, pulling it frontward
insert a pellet (head first), in the barrel
close the pistol, until the slide hangs on (it can be a little hard, to compress the cylinder)
aim
put the safety off
and shoot!
Manufacturer

BLACK OPS

Type of weapon

Pistol

Caliber

.177 (4,5 mm)

Power source

Spring

Cocking

Barrel lift

Barrel

Steel / Rifled

Ammunition

Pellets

Firing

One shot

Loading

Barrel

Stock

Synthetic

Main hand

Ambidextrous

Culasse

Acier

Safety

Manual

Optic fiber

Rear sight

Rear sight

Adjustable

Front sight

Fixed

Dovetail rail

Picatinny / Weaver

Color

Black

Lenght

17.32"

Barrel length

10"

Weight

3.48 Lbs

Velocity

876 Fps

Energy

10 Joule

Legislation

D category weapon (free sale over 18 years old)

Origin

China

Catégorie

Pistolet à plomb
Customers who bought this product also bought: