ARTEMIS CP2 CO2 pistol - rifle (6 - 8 Joules)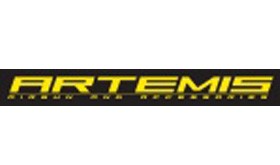 1 pistol .... multiple variants !
In the same line as the well known CP1-M, a very powerful airgun, ARTEMIS proposes the CP2, a modular pistol that can be turned into a rifle, working thanks to CO2, and with a 9 shots capacity magazine.
It is delivered with a shoulder stock, a long barrel and a silencer, easily adaptable to the pistol, one buy one or all together.
Available in 3 different version (to choose) : .177 black - .177 camo - .22 black
Find out more
Characteristics of the Artemis CP2
The CP2 Artemis is an air pistol, working thanks to a 12g Co2 cartridge.
It has a great power of 6 Joule for the pistol version, and nearly 8 Joule for the rifle version, that makes it an ideal weapon for 1 meters range shoting.
It shoots pellets in .177 bore, flat or pointed, according to the targets : paper, cans or bottles.
Multishots, it has a 9 pellets capacity magazine.
It has natural sights : an adjustable rear sight and a fixed blade front sight.
It also has a manual safety system, with a button located on the trigger, that blocks any shooting while engaged.
Operation
The magazine comes out, to be charged with the pellets.
The CO2 cartridge takes place in the pipe, just under the barrel. It is the pireced, srewing the filler cap, with the help of the rod located in the cap if necessary.
The pistol is "bolt action", loaded thanks to a lever :
pull the lever back, to open the chamber
insert the magazine (from left to right), or eventually a single pellet directly in the barrel fo a single-shot use
push the lever back firmly, to insert the pellet in the barrel
aim, and shoot
re-load the pistol, pulling the lever back and front
Attention : the pistol doesn't have a safety preventing from a double loading : shoot imediately after cocking, never load a second time, because it should push a second pellet in the barrel, that should probably block the pistol.
Modularity
The particularity of this pistol Artemis CP2 is that it is convertible, with its 3 accessories provided :
a long barrel, that replaces the pistol barrel, simply unscrewing it
a shoulder stock, easily adaptable to the pistol handle
a silencer (more asthetic than efficient), that can be screwed at the end of the pistol or the rifle barrel
The CP2 is delivered with 2 9-shots magazines.
Manufacturer

ARTEMIS AIRGUN

Type of weapon

Pistol

Caliber

.22 (5,5 mm)
.177 (4,5 mm)

Power source

CO2

CO2 cartridges

12g

Cocking

Bolt action

Barrel

Steel / Rifled

Ammunition

Pellets

Firing

Manual repeater

Loading

Magazine

Capacity

9 shots in .1777 shots in .22

Stock

Synthetic

Material

Alloy

Main hand

Ambidextrous

Optic fiber

No

Rear sight

Adjustable

Front sight

Fixed

Dovetail rail

11 mm

Color

Black
Camo

Lenght

14.17 / 33.86 "

Barrel length

8.27 / 17.72 "

Weight

2.03 / 3.30 Lbs

Velocity

500 / 600 Fps

Energy

6 / 8 Joule

Legislation

D category weapon (free sale over 18 years old)

Origin

China

Catégorie

Pistolet à plomb
Customers who bought this product also bought: