ARTEMIS GR1250W air rifle .177 bore - Wood (19.9 Joule)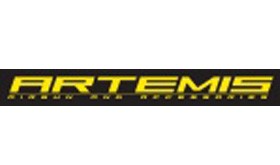 The chinese brand ARTEMIS markets mechanical, esthetic and finishing good quality air rifles. As this model GR1250W, with a great ambidextrous wooden stock, that develops a 19.9 Joule power.
And at an extremely competitive price.
Find out more
Beautiful air rifle ARTEMIS, in .177 bore. It shoots pellets in this caliber, flat or pointed.
It has an ambidextrous wooden stock, with a finely squared surface on the handle, wher se hand comes.
Its rifled barrel is made of steel, et is finished by a synthetic sleeve, that is helping the handling while cocking.
The rifle is break barrel : first unlock the barrel, taping it with the palm of the hand, pull it down until the 'clic", put a pellet, and close the barrel.
The safety is automaticaully engaged by the cocking. It easily unlocks, by pushing the button at the back of the barrel with the thumb (when the red point appears, the rifle is ready to shoot).
Natural sights have red and green optic fiber, the front sight has a protective tunnek, and the rear sight is adjustable.
It also has a dovetail rail of 11mm, to adapt a scope or a red dot for example.
Manufacturer

ARTEMIS AIRGUN

Type of weapon

Rifle

Caliber

.177 (4,5 mm)

Power source

Insert gas piston

Cocking

Braek barrel

Barrel

Steel / Rifled

Ammunition

Pellets

Firing

One shot

Loading

Barrel

Stock

Wood

Main hand

Ambidextrous

Adjustable trigger

Yes

Safety

Automatic

Optic fiber

Rear and front sight

Rear sight

Adjustable

Front sight

Tunnel

Dovetail rail

11 mm

Color

Wood

Lenght

46.46"

Weight

8.16 Lbs

Velocity

920 Fps

Energy

19.90 Joule

Legislation

D category weapon (free sale over 18 years old)

Origin

China

Energy Category

between 10 and 20 joule

Catégorie

Carabine à plomb
Customers who bought this product also bought: