Powerful and practical, the PCP rifle uses pre-compressed air to propel lead. Like the CO2 model, it is not necessary to lower the barrel or operate the arming lever to be able to fire. Placed under the barrel, its pre-compressed air storage chamber allows series of several shots to be made without the need to recharge it. Once empty, simply fill it with a high-pressure compressor, hand pump or diving bottle.
Over-the-counter pellet rifle up to 20 joules
Alike the air rifle, the PCP is available over the counter up to 20 joules. Beyond this power, it joins the category C weapons and requires the presentation of different documents to be purchased. More fragile than the other models, the PCP is intended for experienced shooters.
-> Find out more about pellet rifle legislation
Available in 5.5 mm calibre
Only available in 5.5 mm calibre on our armory, it can eject lead up to 100 meters. Being the most common for this propulsion system, 5.5 mm lead offers a good compromise between accuracy and distance. In addition, it can take different forms: flat, round, perforating...
The reloading of the pre-compressed air rifle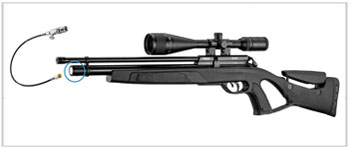 Pre-compressed air recharging mechanism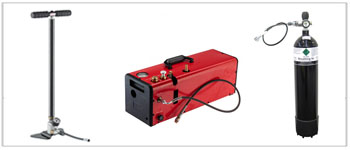 Equipment for reloading the PCP rifle
Overall characteristics of the PCP rifle
Operation

Pre-compressed air

Shooting

Semi-automatic / Burst shooting impossible / Accuracy decreases as the tank empties

Armament

No arming between each shot

Loading method

The pre-compressed air is stored in a chamber under the barrel /
Insert the pellets directly into the barrel, which may contain several pellets / Reload the magazine when it is empty

Legislation

Free sale for a power of less than 20 joules

Calibre

5,5 millimetres

Price

From 350 euros
All our PCP rifles