Considered the most popular model, the air rifle uses the expansion of a gas to eject lead. Easy to use, it is still necessary to lower the barrel or operate the arming lever (under or on the side of the barrel) to be able to fire. This procedure is carried out before each shot, and very quickly becomes automatic.
Over-the-counter pellet rifle up to 20 joules
Alike CO2 and PCP rifles, it is available over the counter up to 20 joules. Beyond this power, it is mandatory to present various documents to be able to buy it.
-> Learn more about pellet rifle legislation
Available in two calibers
At Jean Pierre Fusil, we offer you the compressed air rifle in two calibers: 4.5 and 5.5 millimeters. Relatively light, 4.5 mm lead is the most widespread in France. Can be shipped up to 30 meters, it is ideal for recreational or precision shooting at short distances. Generally used to load rifles from 7.5 to 23 joules, it is also appreciated for its very low price.
More efficient, 5.5 mm lead can be propelled up to 100 metres. Used to recharge models from 30 to more than 50 joules, it is relatively stable in air. It is perfectly suited for long-distance precision shooting.
Method of arming the air rifle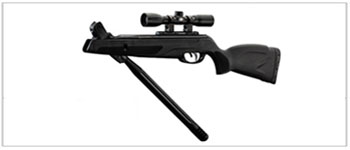 Breakage of the barrel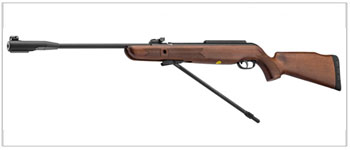 Arming lever

Overall characteristics of the air rifle
| | |
| --- | --- |
| Operation | Compressed air |
| Shooting | Monocoup / Burst shooting not possible |
| Armament | Manual / To be renewed between shots |
| Method of arming | Lower the barrel downwards or operate the cocking lever on the side of the rifle, then insert the pellet into the barrel chamber. |
| Legislation | Free sale for a power of less than 20 joules |
| Calibre | 4,5 et 5,5 millimetres |
| Price | From 65 euros / Junior rifle for initiation |
All our air rifles