The Colt 1911 pistol 
The Colt M1911 is a semi-automatic pistol with a 7-shot capacity. Manufactured by the American company of the same name, it is particularly robust as it works even when filled with sand and water. The M1911 was used by the United States Armed Forces from 1911 to 1985 and during the two World Wars.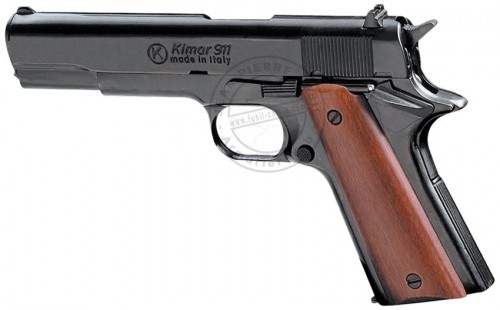 The beginnings of the Colt 1911
The Colt M1911 pistol was invented by John Moses Browning in March 1911. After being used by the US Army in World War I, it was modernised and became the M1911A1 in 1926.
The differences between the first and the second version are the following: simplification of the hammer, shortening of the trigger, easier access of the forefinger to the trigger, magnification of the handlebar, wooden stock plates replaced by plastic, various modifications to make the shot more instinctive...
These changes are mainly made to facilitate the large-scale production of this weapon of war.
Exporting the M1911
Colt grants only two manufacturing licences for foreign countries. The Kongsberg Weapons Factory in Kongsberg, Norway, slightly modifies the M1911, which is then renamed the Kongsberg M1914. This model was then produced under duress for the Wehrmacht for five years (1940 to 1945).
The Military Small Arms Factory in Rosario (Argentina) also produced the M1911 with some modifications (= M1927A1) to arm the country's military and police.
Several Spanish manufacturers are making simplified copies of the M1911 and M1911A1 models for Latin American countries.
Key dates
The first version of the M1911 works by simple action with .45 ACP cartridges (= 11.43 millimetres). This large-calibre ammunition is heavy, slow and causes a significant recoil. At the end of the 1920s, Colt also offered it in .38 Super Auto calibre (= 9 millimetres) with a 9-shot magazine.
From 1930, Colt declines it in 22.LR to facilitate the training of the GI. This version bears the name Colt ACE. Then, it equips it with an adjustable sight for sport shooters: the Colt National Match which later becomes the Gold Cup.
In 1985, the US Army replaced the M1911A1 with the M9.
To celebrate the 80th anniversary of the model, Colt produced the M1991A1 in 1991. The serial numbers for this new model pick up where they left off when military production of the M1911A1 was halted.
Since the patents expired, the M1911 has been copied by many manufacturers around the world.

The replicas available on the armoury
At Jean Pierre Fusil, we offer several replicas of the Colt 1911 under the Umarex and Kimar brands. These are CO2 pellet pistols used for training and alarm pistols used for home defence.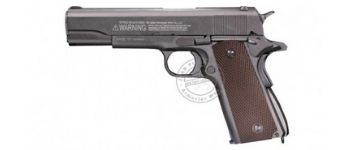 Remington pellet gun
4.5 millimetres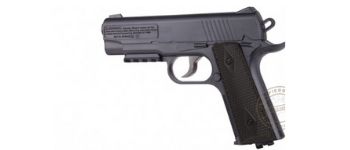 Remington pellet gun
4,5 millimetres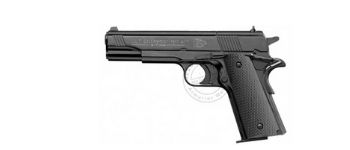 Umarex pellet gun
4,5 millimetres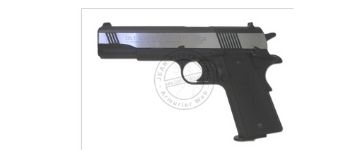 Umarex pellet gun
4,5 millimetres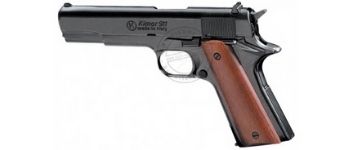 Kimar defence pistol
9 millimetres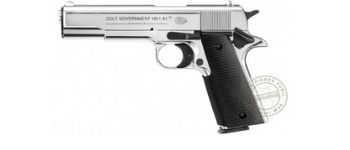 Umarex defence pistol
9 millimetres