What is a sniper rifle ?
A sniper rifle is a recreational weapon with a tactical/military look. It is equipped with a scope and sometimes a bipod and a silencer. Its modern line and accessories are reminiscent of the sniper rifle used by snipers. The sniper rifle shoots diabolo pellets and works with compressed air. Monocoup, it is necessary to break its barrel at each shot.

Plumb snipers available in the armoury
At Jean Pierre Fusil, we offer you several rifles of this type. To find them, just type "sniper" in the search bar of the site. The models are less than 20 joules, classified in category D and therefore on sale for adults. The most popular lead sniper in the armoury is the Black Ops model, a nod to the video game Call of Duty.
Discover three sniper-type pellet rifles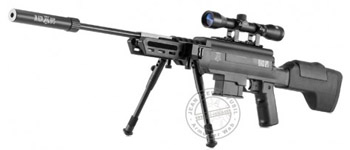 4,5 mm / 19,9 joules
Barrel loading
Supplied with many accessories
"Excellent value for money. Small flat a little heavy." Jean-Noël R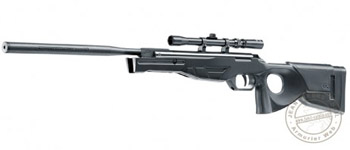 4,5 mm / 7,5 joules
Ideal for younger people
Supplied with bezel and mounting rings
"Very good product, maybe put a notice to adjust the bezel. Otherwise there is a tutorial on YouTube." Olivier V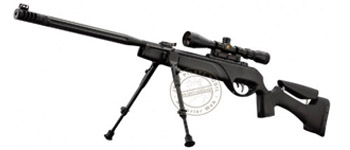 4.5 millimeters / 19.9 joules
Barrel loading
Supplied with scope, mount and bipod
"Accurate with this fiber optic sighting system, a bit stiff to arm, I recommend." DL57