The 1858 Remington revolver
As its name indicates, the first model of Remington revolver 1858 was born the same year. Before 1857, the American gunsmith could not manufacture a revolver since it was blocked by a patent introduced by Colt. As soon as it was lifted, Remington was able to produce its first model, the Remington Beals revolver.

The following year, Fordyce Bels and Eliphalet Remington set the bar higher by making the Remington New Army Army revolver which was declined in calibre 36 and calibre 44. This last rivaled the Dragoons models produced by the competitor Colt. The following years, the Remington of 1858 was improved, thus giving birth to the version of 1861 (more solid) then 1863 (last version, the most widespread). This model was produced until 1875.
The black powder revolver of the Civil War
Today, the presence of the 1858 patent date on all three models means that they are all commonly referred to as Remington 1858. However, during the Civil War (1861 to 1865), they were called by the name of the model or simply Remington. The 1858, 1861 and 1863 models were considered the finest revolvers of the Civil War and were sought after by both sides.
The Remingtons were easier to load than Colt models. All you needed was an extra cylinder that was already full to refill them. The exchange of the cylinder was done very quickly. Their barrel was octagonal and the aiming was done with fixed sights.
Steel or brass housing
Originally they had a steel frame, but during the Civil War the Confederate troops were starving and wanted to use the available steel to make guns and other weapons. The steel frame was replaced by a brass frame, a more abundant material in these states. In the Union Troop camp, the Remingtons still had a steel frame since there was no shortage of this material. If you come across an original Remington revolver with a brass frame, you now know why !
At the time, 15,000 Remington black powder revolvers were sold on the civilian market. Among the famous owners were Franck James, leader of the James-Younger gang, accomplice and brother of Jesse James; Buffalo Bill, mythical figure of the conquest of the West.
Replicas of the Remington 1858
Since the mid-1960s, Italian firms have been reproducing the Remington 1858. These replicas are an introduction to shooting with antique weapons. At Jean Pierre Fusil, we offer several replicas of the Remington 1858 under the Pietta brand. Here are some of them :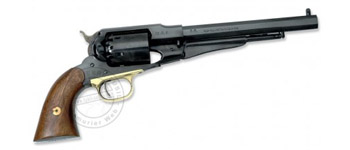 Classic version
Caliber 44 / barrel 8
Woodwork / black finish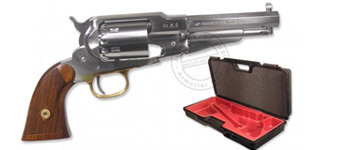 Supplied with case
Calibre 44 / barrel 5.5
Wooden case with checkered pattern / stainless steel finish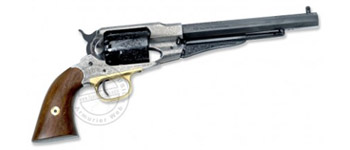 Luxury version
Caliber 44 / barrel 8
Woodwork / old silver bronzed finish