ASG Dan Wesson 6'' CO2 revolver pack - Nickel - .177 bore (3 joules) - SPECIAL OFFER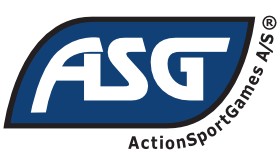 Special offer in pack  
A great offer for the great weapons lovers ! 
The Dan Wesson 6" revolver chrome is offered in a ready-to-shoot pack, with ammos, CO2 cartridges, targets and a transport/storage case.  
Find out more
ASG revolver features
.177 BB bore, the Dan Wesson shoots BBs steel round ammos.
It is full metal made, with a very realistic weight.
The stock is made of ABS and ergonomic : fingers naturally take place, for an excellent and easy handling
The realism is increased with the use of (false) shells in the barrel, where the BBS are loaded.
The CO2 cartridge takes place in the stock and provides the energy.
The Dan esson has an adjustable rear sight and a fixed front sight, to help the naked eye aiming. It also comes with a Picatiny rail that can be mounted on the barrel, allowing the addition of a red dot sight for example.
The trigger is simple or double action : you can cock the hammer or pull the trigger directly.
It also has a safety system, with a button on the left side.
Loading the pellet revolver
The CO2 is located in the stock. Unmount the handle cover, pulling it back. Load the CO2 capsule in its compartment, head up, and turn the lock system to activate the CO2 (pshitt). Remount the CO2 handle cover, the revolver is ready.
Hyper-realistic, the Dan Wesson uses bullets, in the cylinder.
Push  the safety to push the cylinder, that swings to the left.
Take the shells out, and fill each of them with a BB, from the plastic side.
Push the shells back in the clinder, and close it.
The revolver is delivered with a speed loader, that allows to load the 6 bullets together in the cylinder.
Composition of the ready-to-pull kit
The Dan Wesson 6" chrome revolver
A speedloader and 6 cartridges
A picatiny rail and its key
A transport / storage case
10 CO2 cartridges
1500 BBs
10 paper targets 14 x 14 cm
Manufacturer

ASG

Type of weapon

Revolver

Caliber

.177 (4,5 mm)

Power source

CO2

CO2 cartridges

12g

Barrel

Steel / Smooth

Ammunition

BBs

Firing

Semi automatic

Loading

Cylinder

Capacity

6 shots

Stock

Synthetic

Main hand

Ambidextrous

Body

Full metal

Trigger

Double action

Safety

Manual

Rear sight

Adjustable

Front sight

Fixed

Dovetail rail

Picatinny / Weaver

Color

Silver

Lenght

12"

Barrel length

5.5"

Weight

2.30 Lbs

Velocity

426 Fps

Energy

3 Joule

Legislation

D category weapon (free sale over 18 years old)

Origin

Taiwan

Pack

Yes

Promo

Yes

Catégorie

Pistolet à plomb
Customers who bought this product also bought: